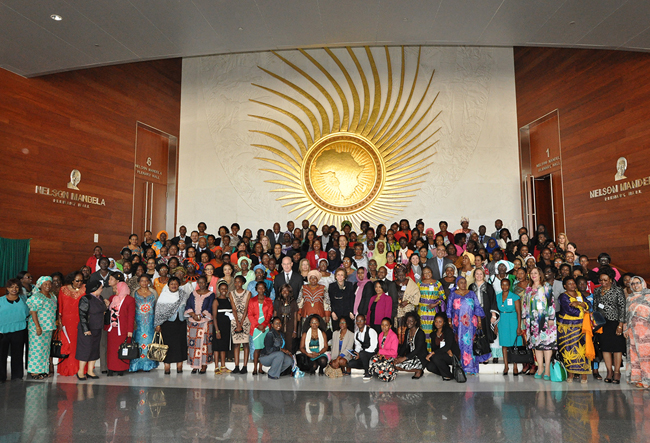 25th African Union Pre-Summit Consultative Meeting
Addis Ababa, January 26th, 2015 – This week in Addis Ababa marked the end of the four day Gender is my Agenda Campaign (GIMAC) Pre-Summit Consultative Meeting on Mainstreaming Gender in the African Union (AU) and Member States. This 25th session of the GIMAC was special on many accounts. The year 2015 has been designated by the AU as the Year of Women's Empowerment and Development Towards Africa's Agenda 2063. The year also marks the 20th anniversary of the Beijing Declaration and Platform for Action (Beijing+20) and the 15th anniversary of United Nations Security Council resolution 1325 (UNSCR 1325). We are also into the 5th year of the African Women's Decade (2010-2020) and the finalization of a new post-2015 development framework. The meeting marked the bi-annual consultation between GIMAC members on the one hand, and with the African Union Commission Chairperson, AU ministers of Gender and Women Affairs, gender focal points of Regional Economic Communities and United Nations partners on the other. This follows a key decision adopted during the 24th GIMAC Pre-Summit Meeting, which took place in June 2014 in Malabo for civil society representatives and policy makers to deliberate together before the African Union Summit of Heads of State and Government.
African Union Summit:
Theme: 'Building Resilience in Nutrition on the African Continent: Accelerate the Human Capital, Social and Economic Development.'
GIMAC Theme:
Advancing Women's Access to Economic Resources to Build Our Continent's Resilience in Nutrition.
25th African Union Pre-Summit Consultative Meeting