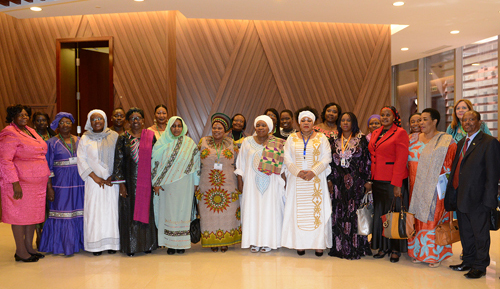 The 24th GIMAC Pre-Summit Consultative Meeting on Gender Mainstreaming in the AU, Malabo, Equatorial Guinea, 19-20 June 2014
 The 24th Gender is My Agenda Campaign (GIMAC) consultative meeting took place from the 19-20 June 2014 in Malabo, Equatorial Guinea, ahead of the bi-annual African Union (AU) Summit on agriculture and food security. Coordinated by Femmes Africa Solidarité (FAS), with the support of Women in Law and Development in Africa (WiLDAF), the event gathered more than 70 African women from diverse backgrounds, representing the GIMAC network's 55 member organizations. H.E. Dr. Nkosazana Dlamini-Zuma, Chairperson of the African Union Commission (AUC), Ms. Bineta Diop, the AUC Chairperson's Special Envoy for Women, Peace and Security, African Ministers of Gender, and Gender focal points from continental and regional organizations (NEPAD, Regional Economic Communities, African Development Bank, United Nations Economic Commission for Africa, among others), participated in the discussions. Women shared stories, good practices and challenges on issues ranging from agriculture and food security, to violence against women in current emerging conflicts, the post-2015 agenda, Agenda 2063, and the implementation of UN Security Council resolution 1325. Participants adopted a set of recommendations to be shared with AU Heads of States and governments to urge them to take action on prevailing and emerging issues affecting women and girls in Africa.
African Union Summit:
Theme: 'Building Resilience in Nutrition on the African Continent: Accelerate the Human Capital, Social and Economic Development.'
GIMAC Theme:
Advancing Women's Access to Economic Resources to Build Our Continent's Resilience in Nutrition.
The 24th GIMAC Pre-Summit Consultative Meeting on Gender Mainstreaming in the AU, Malabo, Equatorial Guinea
Date: January 19th-20th  2015